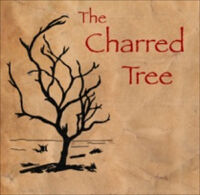 Welcome to the The Charred Tree Wiki
Edit
This wiki is about the stories posted to the writing blog, The Charred Tree. As such, spoilers may exist on each page of this wiki! Plans are to include pages on characters, storylines, places, etc. While all content on the wiki falls under Creative Commons CC-BY-SA licensing (per Wikia Terms of Use), the works referenced on the blog are individually licensed. Some will be licensed under Creative Commons and some will not be--please note the licensing at the end of each story. (NOTE: No licensing statement means all rights are reserved. The existing published stories will be reviewed over time and licensing will be updated on a case-by-case basis.)
You can find The Charred Tree at thecharredtree.wordpress.com.
What is The Charred Tree?
Edit
The short answer is that The Charred Tree is Dean Bryant Johnson's writing blog. With the exception of a couple of hiatuses (primarily due to the work that pays the bills) Bryant has kept to his planned schedule of posting at least one story per week. The tagline pretty much says it all: Stories, scenes, and vignettes from a strange mind. The only unifying aspect of the stories on The Charred Tree is that they are short-form fiction. Many are stand-alone stories or vignettes while others are scenes in longer work (serials).
Wiki Sections
Edit
Now to the meat of the wiki...
(Other sections will be added as the wiki develops. DBJ)
Latest activity
Edit
Ad blocker interference detected!
Wikia is a free-to-use site that makes money from advertising. We have a modified experience for viewers using ad blockers

Wikia is not accessible if you've made further modifications. Remove the custom ad blocker rule(s) and the page will load as expected.